Muncie MusicFest 2016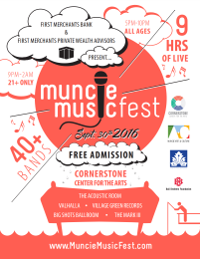 October 1st, 2016 Like the very first Muncie MusicFest back in 2007, last night's festival was accompanied by an unexpected downpour of rain. And just like that first night, Munsonians came out despite the weather, showed their support, and were rewarded with a fantastic time. On behalf of the 130 musicians, 45 staff members, dozen organizations, and six venues who created the tenth annual Muncie MusicFest, thank you for your attendance, your support, your kind words, and the part you play in this beautiful community.
I'm going to steal some of my own words from last year on this subject, because it's as true today as it was then: It would take all day to list everybody who deserves credit and explain how awesome they were at their jobs, big or small, but suffice it to say that Muncie MusicFest 2016 was a giant demonstration that grassroots, independent volunteer efforts can create great things and truly grow our community. I hope that this year's success will inspire people to contribute some of their time and energy to helping their local arts and entertainment scene by volunteering to help run upcoming events, by supporting existing community projects, or by creating brand new ways to make the world a little bit better, easier, more connected, more beautiful, and more full of music.
Interested in being part of Muncie MusicFest 2017? Keep an eye on this website and facebook.com/munciemusicfest for more announcements.
Graham Watson
Muncie MusicFest Torchbearer 2007-2016