2016 Lineup Announced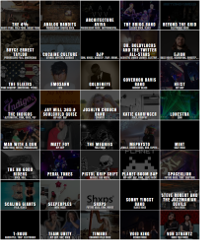 August 29th, 2016 We're almost finished booking this year's festival, but we're too antsy to wait any longer to announce what we have so far. Check out the 2016 lineup to see what bands you'll be able to see for free on September 30th at our seven festival locations. The 2016 schedule is also available so you can start planning your concert itinerary now.
Our lineup features rock, metal, indie, country, americana, blues, folk, electronic, and hip-hop, and even ventures out into such diverse musical territories as chamber-folk, jungle, chiptune, and psychobilly. We have new, up-and-coming bands as well as established Muncie favorites. We have touring bands that have made an impact on the Muncie music community in the past. You'll find music to bring your grandparents to see and music that will give children nightmares. You'll find stages where you'll be invited to sit and relax, and you'll find energetic dancefloors to join.
On behalf of all of the Muncie MusicFest bands and the festival planning crew, we hope that you'll join us on September 30th to help celebrate all that the Muncie music community is in 2016.