Remembering Steve Robert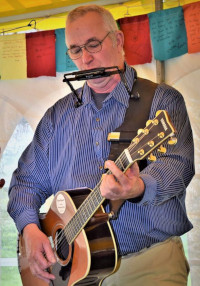 April 23rd, 2020 On April 21st, 2020, friend of Muncie MusicFest Steve Robert passed away from a brain tumor. Steve was an integral part of the festival, serving most visibly as a performer with his acclaimed band Steve Robert and the Jazzmanian Devils, but also as a key sound engineer helping us work that Muncie magic and do so much with so little, as well as the warm, positive presence in our management team who was always present to lend a hand, offer guidance, and keep us from using the many stresses of running complex community events as an excuse to turn negative and cynical. No matter how difficult our jobs were, and no matter how much the odds were stacked against us, Steve helped keep us focused, determined, and most importantly, smiling through it all.
As anyone who knew Steve can corroborate, he had a simple mission in life of spreading peace and happiness, and seeing the actual success that he had in this mission, either through his community work or just through the peace spread through the personal warmth that he shared with others, had a profoundly humbling effect on anyone who had the good fortune of spending time with him. Steve will be dearly missed, but at the same time, our community will forever carry with it echoes of what he spent his life giving us with his hard work, his community advocacy, his music, his politics, his philosophy, and his friendship.
Shortly after his diagnosis, Steve recorded a short cover of a song that had been on his mind at the time.